. Coming by Car/Taxi -
Coming from Haridwar: Pass Haridwar, drive 15-16 Km, You will see the Hanumanji Temple (Baba Neem Karoli Temple) on your left, Just past the temple is the IDPL Gate on your right. Turn right at this gate, Keep going straight, Ask for the Barrage Bridge or AIIMS hospital. Follow the way to the bridge. There will also be signs for Parmarth. Follow these signs. Once you reached at Barrage Bridge follow the next steps.

Coming from Dehradun: Pass Natraj chowk as entered in Rishikesh, Reach Koyal Grant near Degree College in Rishikesh. Take left turn from Koyal Grant and drive apx. 2 km to reach Barrage Bridge or AIIMS hospital. Once you reached at Barrage bridge follow the next steps.

Cross the Barrage Bridge.

Immediately after crossing the bridge, turn left. You are now 7 km from hotel.

Go straight through the mountains. First you will go up, and then go back down.

There will be a fork in the road. One road goes off to the right, for Neelkanth. Don't take this road. Take the road that goes left and down

Head down until there is a left turn. There will find a small taxi/jeep stand; Turn left.

Go 200 meters to the first road (the only road). Turn first right drive another 200 mtrs. Turn right you will reach at Hotel.

Coming from Shivpuri or Devprayag (Badrinath/Kedarnath) route, 4 km before Rishikesh or Laxman Jhula there is a new bridge on Ganga river called Garurchatti bridge. Cross the bridge take right drive 3km to Laxman Jhula. There will be a fork in the road. One road goes off to the left. Don't take this road. Take the road that goes right towards Laxman Jhula drive 2km more from laxman jhula towards Swargashram. Ask for Parmarth Niketan Ashram we are nearby.
2. By Train/Bus: -
Once you reach at Rishikesh or Haridwar or Dehradun. You can either hire a taxi to take you directly to the hotel as per the directions given above, or you can take taxi, bus, or rickshaw to

The Janki setu – New suspension bridge is also available to reach hotel. After reaching Janki setu , Cross the bridge and turn left walk just hundred meters then turn right another short walk of hundred Meters , on your left hand side second property is Hotel Yog Vashishth .


Ram Jhula bridge –Near Ram Jhula car parking which is the parking lot near Ram Jhula bridge (also called Shivanand Jhula). From there you can take a motor boat across Ganga (or walk across the bridge). Then, after crossing, head down Ganga - a right turn followed by right turn - until you see a huge, beautiful clock tower. We are a few hundred meters down river from Ram Jhula. next to clock tower (Parmarth Niketan Ashram) take first left... first right…second left. you will find us.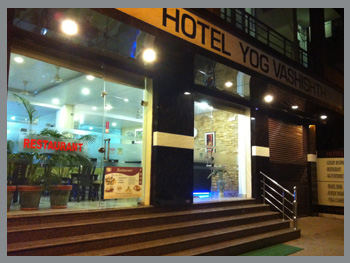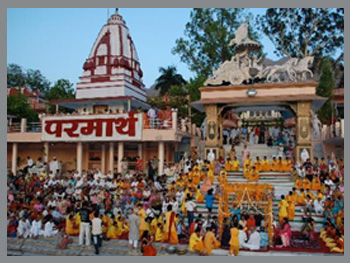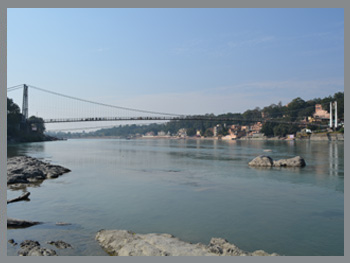 3. By Air: -
Once you reach at Dehradun, Jolly Grant Airport in Rishikesh/Dehradun. The airport is only about 40 minutes from the hotel. From airport hire a taxi direct upto hotel as per the direction given above.
IMPORTANT :
Pedestrian bridge Ram Jhoola open 24 hrs. Motor bridge Barrage Bridge open from 6 am to 6 pm in winters and 5 am to 8 pm in summer only. Motor bridge Garur Chatti bridge near Laxman Jhula bridge open 24 hrs. .
For further assistance Please call +91-135-2440030 or 8171456286

Nearest Train Station:
Rishikesh- 6 km / Haridwar - 30 Km / Dehradun 50 km
Nearest Bus Station:
Rishikesh - 6 Kilometers
Nearest Airport:
Joly Grant, Dehradun - 25 Kilometers
---